August 12th, 2012
Holaaaaaa, BB!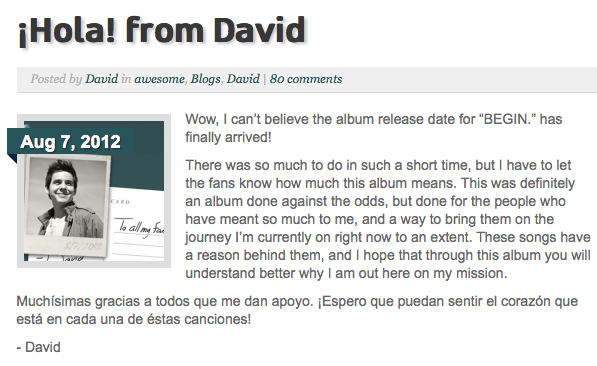 Trans: Thanks to all who give me support.I hope you can feel the heart that is in each of these songs!
We love you, David! Thank you so much for finding time to communicate with us. We'll be here waiting. Always.
Oh, and we love Begin. What a wonderful gift you've given us!
Because we'd love to hear from you guys!!!
Contribute! If you wanna submit news bits, artworks, covers, poems, or anything David, send us an email at news@archuletaphilippines.com.

Contact us! If you wanna join the AP news team, or for other concerns, reach us through the following emails: kricket@archuletaphilippines.com or pet@archuletaphilippines.com
admin: kricket. pet. nette. + layout: vince. kricket. pet. janssen. + editors: faye. kat. joyce. + graphics: ferj. rowz. janssen. pet. chai. jin. vince. + news team: kricket. pet. faye. kat. che. nettekulet. feesh. uriel. ayra. eugene. selene. jenna. gem. rowz. + charts: nettekulet. jin. + the generous ones: mj. filmom. kat. kricket. aidylmarie. sian. tita bess. tita ditas. nes. charisse. naree. + the forever supportive: tita ditas. tita tes. naree. tita bess. ms ana. lorms. +