Archive for the 'Angels Reaching Out' Category
Join A.R.C.H. and AP as we celebrate Christmas in a truly David-inspired manner!
1.) CHARITY – BE AN ARCHU-BRO or ARCHU-SIS for the KIDS of BAHAY MARIA!
MEETING TIME AND PLACE: 9 to 9:30am at Rustan's Makati Grocery Area
VENUE: Bahay Maria — 95 Amapola St, Bel-Air, Makati City
PROGRAM: 10AM to 12NN
ACTIVITIES: Gift Giving, Program and Games with the kids
2.) PARTY – ARCH and AP Year-end Get-Together // Celebrating David's 22nd Birthday
VENUE: Function Room, One Gateway Place, Mandaluyong City — near Robinson's Pioneer (aka Lorms' place)
ACTIVITIES: GAMES, CHATS, EATS, RAFFLE, BIRTHDAY CAKE EATING
RAFFLE: Here are a few:
a. Five (5) DA Unplugged @ CASBAA HK
b. Five (5) DA @ The Bench Launch DVD
c. Five (5) MKOC Tour DVD
d. One (1) poster from the MKOC last year
e. Two (2) T-shirts
f. One (1) bag
g. One (1) DA 8×11 pic
h: Moooar
For more info, please READ:http://arch2011.wordpress.com/2012/12/24/archies-are-you-ready-dec-29-arch-event-and-year-end-gt-updates/ or contact @nareejo @jackryan4da @lorms
Happy Birthday to our dearest, David Archuleta! We know you are miles away from us, but this will not stop us from greeting you the way we have been doing for years–lots of love, warmth and joy. You have been a great source of strength, kindness and inspiration. Thank you, David. Have a happy, blessed and meaningful birthday! We miss you so much!

This video was taken two years ago–your 20th birthday. The video, however, represents how your fans love you so much. Plus, this one is a classic. So, here we gooo!


HAPPY 22nd BIRTHDAY, DAVID ARCHULETA!!!
video credit: @nareejo
Don't think it will end here. There's more for tomorrow, the 29th of December, the Pinoy Archangels will be reaching out! So, big brothers and sisters, come join us in this great event! Please visit
Angels Reaching Out Philippines
and follow them on twitter, @ARCH_PH!
Pictures!
Today, ARCH, headed by @nareejo, in coordination with @archuletaphils, gathered and dropped off all the donations from our generous and kind-hearted fellow Archies at the Alagang Kapatid Foundation. All donations were for the benefit of those affected by the recent flood.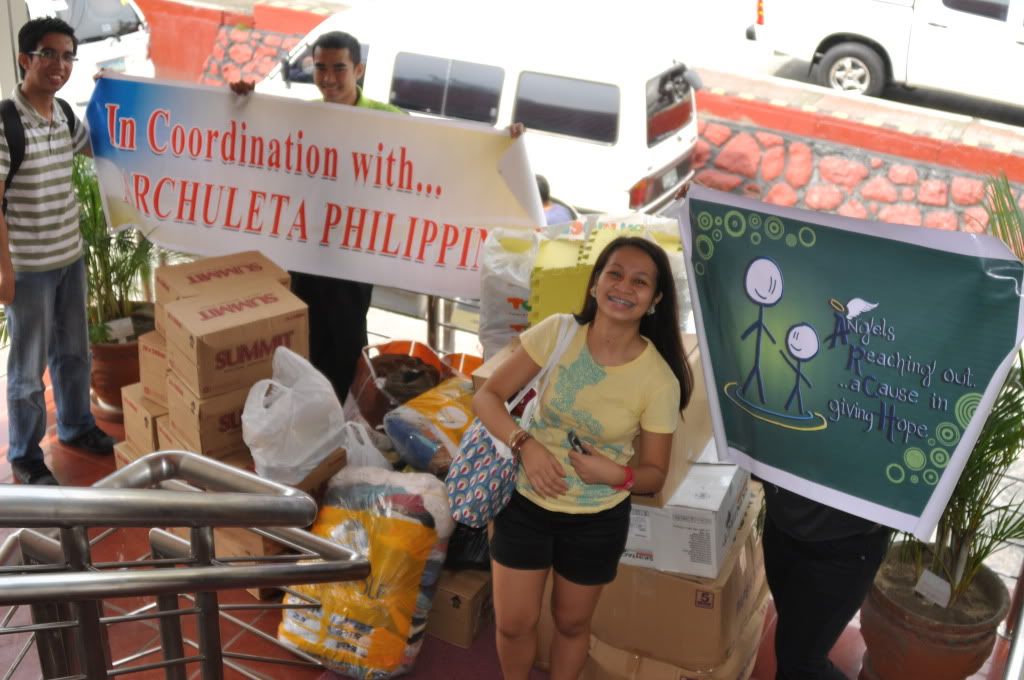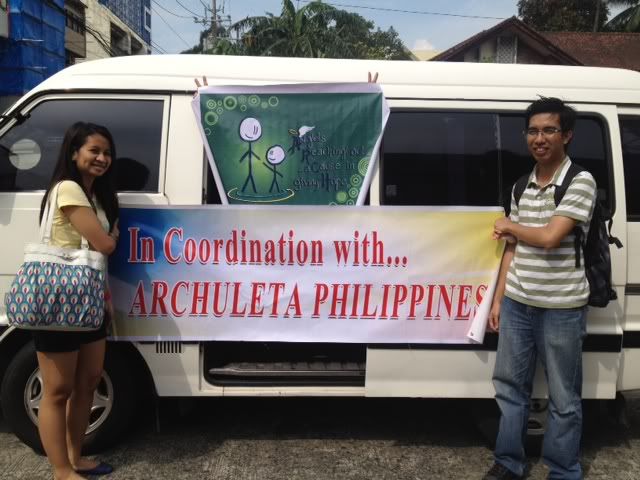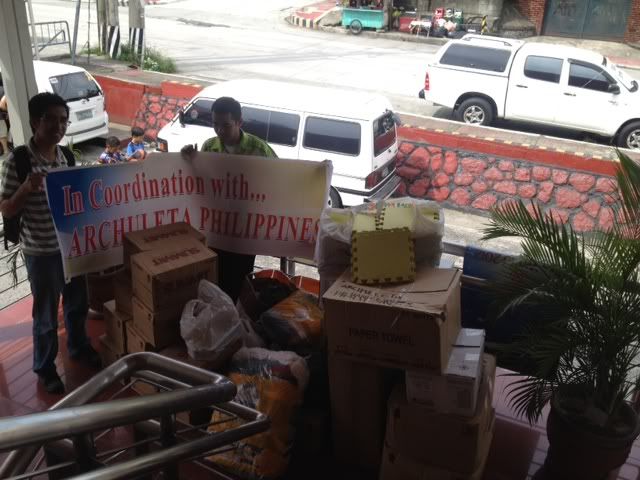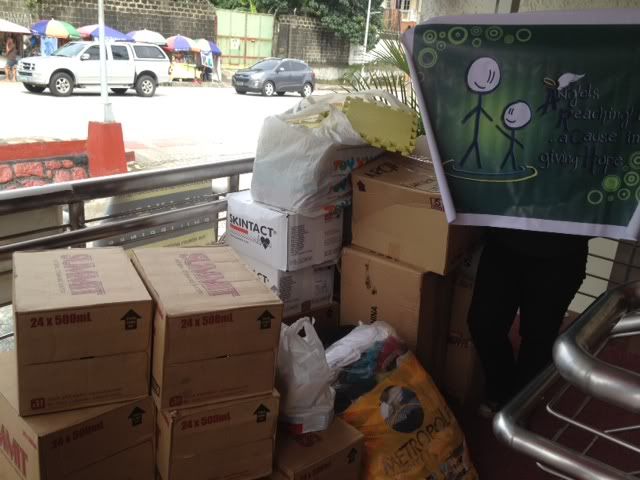 (umm, that's @jackryan4da hiding behind the ARCH banner lol)
More pics here.
All in all, the team – composed of @nareejo @jackryan4da @therandomPinay @lorms @cmaecy @ronaldbruiz – were able to donate about 16 boxes of bottled water, 10 boxes of clothing, and 8 boxes of canned goods and other food.
Special mention goes out to @FanScene @heidijoy5 and @haroldcpim for their generous donations. Thanks so much, you guys!
What a wonderful thing it is to be able to help out our fellow countrymen in need, as a fans brought together by the wonderful person that is David Archuleta. Indeed, the Archies' desire to always reach out is one of the many wonderful things brought about by David's person, character and inspiration. Truly, David would be very proud! Big hugs to everyone for a job well done!
Again, ARCH/AP would like to send out our heartfelt thanks to everyone who responded!
In light of the recent events in the greater Luzon area, and being in one spirit with the positive message of David's latest album, BEGIN., ARCH together with AP, will be having a FLOOD DRIVE for all the families who have been displaced by the heavy rains and floods, all in David's name.
As soon as it is safe, the team will be heading out to donate the gathered goods and stuffs to TV5/ALAGANG KAPATID FOUNDATION, and lend a hand wherever needed. And while it isn't safe yet, please just prepare all the stuffs you could donate.
***UPDATE 1***
Meeting Date/Time: Sunday, August 12, 1:00PM
Meeting Place: Professional Tower #37 EDSA cor Boni Ave, Mandaluyong City. (Just wait inside the gate by the stairs.)
What to bring: Your donations, yourself, your heart, your compassion, your smile.
***UPDATE 2***
AFS is auctioning a one-of-a-kind Photobook donated by David's Abuelita, and signed by David himself. The proceeds of which will be going to the flood victims of the recent flood. (Photos are from @nareejo's archive of DALIM3 pics!)
Please do check out the auction here!
******
All forms of donation will be very much welcome!
THE BASICS**
*Clothing (Shoes, shirts, socks, slippers, blankets, jackets, etc)
*Food (canned goods, noodle packs, rice, water, biscuits, etc)
*Medicine
You may send/leave your donations to/at any of these drop-off points:
@nareejo
St. Lukes Medical Center, QC
Cathedral Heights Bldg, North Tower
Rm 612, Mon-Sat 10:00-5:00pm

or

@nareejo
St. Lukes Medical Center
Global City Medical Arts Bldg
Rm 821, Mon-Sat 10:00-6:00pm

or

@jackryan4da
10/F Professional Tower
#37 EDSA cor Boni Ave
Mandaluyong City
CASH DONATIONS** –  will be converted into basic goods, and other necessary items.
(for those outside Metro Manila/the Philippines who wish to help)
BDO
Account # 007010017856
Bonifacio Global City Branch

GCASH
(details to follow)
for now, pls contact @nareejo/@chemerf

PAYPAL
(details to follow)
for now, pls contact @jackryan4da
There are tons of ways to help, and AP/ARCH is offering an avenue where we can all help as an ARCHUCOMMUNITY, as a united group of fans, following David's character and person. Join us in this project!
***
Please contact: @archuletaphils @kricket_rc234 @nareejo @jackryan4da @lorms for questions.
Making David's Birthday Count!
A few teaser pics for you guys!
Tree-planting!


The team planted 21 trees in honor of David's 21st birthday!
The yummiest & cutest Mango cake ever!
Of course, the group stopped by Old Spaghetti House to have some time to chat, laugh (and cry?) together!
And the most important part of all was the group gathering to drop and pack their donations for the victims of the CDO/Iligan flashflood victims! A total of almost P27,000.00 worth of cash has been raised and converted into relief goods: 20 5-gallon jugs of water supply, groceries, canned goods, basic clothing, etc plus the generous donations in kind (clothes, rice, etc) from the volunteer archies that filled a total of 7 boxes containing goods for 50 families have made this event MORE than a success! All these donations have been sent to the GMA Kapuso Foundation.
The group would also like to mention Ilumina Water Filling for the free delivery of water to GMA; and One Gateway Place admin especially to Mr AJ Bartolome, for the free use of the function room.
Big, big, big hugs to ARCH and the Council of Elders  for organizing these activities to make our celebration of David's 21st birthday TRULY COUNT.
DAVID WOULD BE VERY PROUD OF YOU, GUYS!
Celebrate David's Birthday, Plant A Tree With A.R.C.H and Archuleta Philippines
December is always a busy month for everyone, and an even busier month for us Archies as we celebrate both Christmas and… David's birthday! So, AP has a great line-up of activities for all your Filipino @DavidArchie fans.
Angels Reaching Out With Caring Hearts, or ARCH, and Archuleta Philippines will be having a Tree-planting Activity in David's honor, on his very birthday. Deets below.
December is just around the corner…and us Archie fans celebrate this month for three major occasions — Christmas, New Year and…yes…David's Birthday. As he turns twenty-one, let's celebrate it altogether and end the year 2011 with our next project

So don't hesitate to join us on December 28 (Wednesday) at La Mesa Eco Park in Quezon City. After the tree-planting activity, we will celebrate as one, David's 21st birthday. We'll keep you posted for further updates of the event.

Pls don't hesitate to drop a comment here or email us: archph2011@gmail.com or via Twitter — @ARCH_PH.

HOPE TO SEE YOU GUYS and pls SPREAD THE WORD!!!
Check out ARCH's full post here.
Bataan Shipping and Engineering Company, more popularly known as BASECO, is one of the poorest community in Metro Manila. Last Sunday, June 26th, the Rotary Club of Manila District 3810, in coordination with Archuleta Philippines, distributed bags, clothes and school supplies carrying out the BACK TO SCHOOL PROECT to 100 kids in this area.
Here are some of the pictures (taken by @FerjiPerj):
This is actually the 3rd outreach activity we've done, as far as I can recall. The first one was with Virlanie Foundation (Marco Polo Home in Makati) on March 29, 2009 (read here for details) and second one was after the Ondoy calamity, at the GMA Kapuso Foundation on October 4, 2009.
Thank you for all those who sent in their donations, especially Naree, Tita Bess and Tita Ditas.
BUMP!
UPDATE!
It's been two years since Angels Reaching Out was launched. The project was initiated by Naree and, as always, we are proud to be part of it. David Archuleta's generosity, kindness humility and compassion have inspired us all to be the best person we can be–to be part of the change we have been longing for. Well, change does not only begin with ourselves but also includes how we can help change beyond our own personal sphere–that is, the society. How we, as individuals, can make society a better place for everyone–With this, WE CAN MAKE A DIFFERENCE.
REACH OUT. MAKE A DIFFERENCE. DONATE.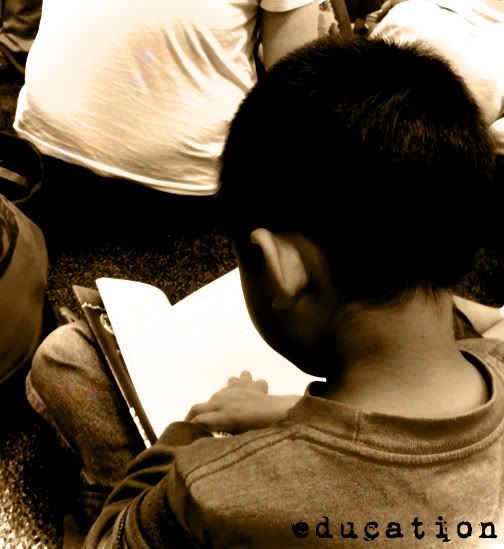 Since June marks the "Back-To-School" month, it is very timely to have a Back-To-School Project, Pinoy Archies style! The project aims to help the less fortunate children and promote the importance of education. We know what the state of our country is in at the moment and we know that a lot of people need help–OUR HELP. The government alone cannot do everything. They need our help. Little things such as this will greatly help our countrymen. More than education, they need basic commodities and surely, we can give them that. Thus, we appeal to your generosity, kindness and compassion to give whatever you can to help our fellow Filipinos–especially children. They are the future of this country. We need to help them. Let us all build a better society. WE CAN IF WE WANT TO.
Let us all keep in mind what @DavidArchie once said:
"I always think about how those donations will help out, even if it's not a huge contribution. That small amount can help change someone's life one way or another, and just thinking about it gives me the chills."
For now, we will be accepting donations in kind–old clothes, school bags, notebooks, pens, pencils, papers, books, and many others. Deadline for donations will be on May 30, 2011. Drop off points will be @nareejo's clinics: Quezon City, Fort Bonifacio, Makati, and Manila. We will be updating you re: the specific recipient of the donations.
Archies outside Metro Manila:
For those not in Manila, you can have a similar project with your fellow Archies in your area. You can make donations to the church or any foundation in your locality and send us pictures of you donating. We will be compiling your photos/activity here.
Just a little thought for you, Pinoy Archie fans…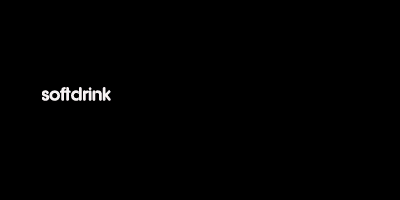 HELP. DONATE. MAKE A DIFFERENCE.
For questions/exact location details, feel free to comment below or tweet @nareejo!
Thanks!
As I was watching the video posted yesterday about the Rising Star Outreach program, I realized that the fulfillment of being a David Archuleta fan is not measured in the number of concerts, pictures, items that he/she attended, shot or gained with his Idol, but in the many ways of sharing David's vision in spreading his heart desires.
I was moved by his unwavering kindness in helping other's lives. Dedicating fractions of what he has brought smiles to people in need. Smiles that brought light to those darkened corners of people's hearts. People who lost hope then, but now regained with strong foundations.
The video below was inspired by a humble angel, who from the heavens, came down to earth, to reach out his hands, even to the far corners of the world…to touch a thousand lives.
I am definitely proud to spread my wings and say that I'm an ArchAngel! I am not ashamed of it!
David you are an ICON of kindness. David, you are a HERO!
Angels Reaching Out 1.
March 29, 2009 – The Pinoy Archangels visited one of Virlanie Foundation's homes, the Marco Polo Home, in Makati City. It is definitely one of the best experiences we ever had! Stay tuned for Naree's post!
I know she'll be posting!
Anyhow, here are the pictures from a memorable event! Hope you could join us in the future!
Pet's camera
More pictures HERE.
Nette's Camera.
More pictures HERE.
Feel free to post your stories here, Angels! You know who you are!