Welcome to AP's Message Book for David's Special Day!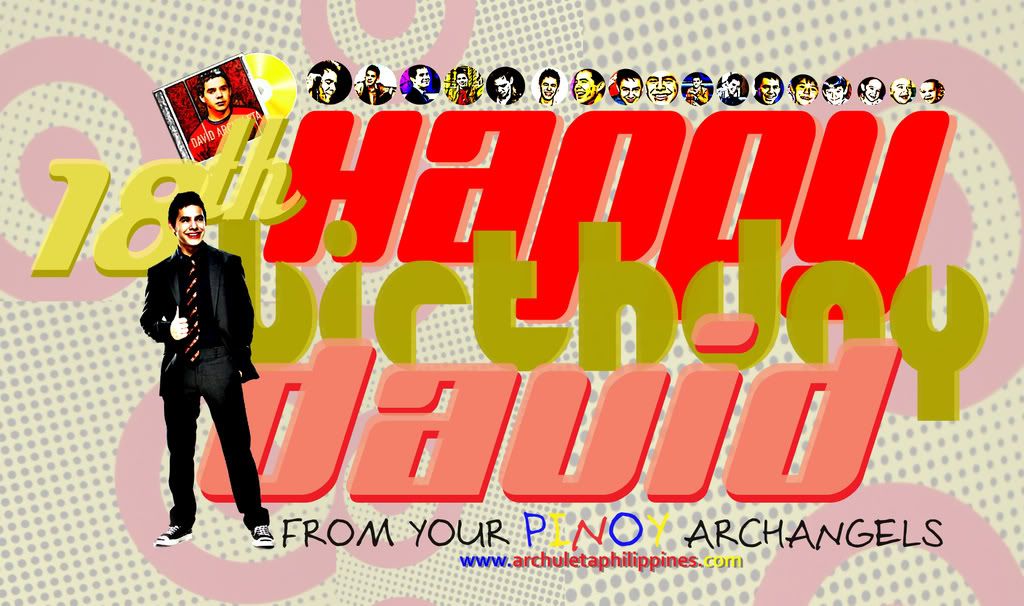 David Archuleta is an artist like no other! A combination of mad vocals, killer looks, sweet smile, and the heart of an angel. Best of all, he cares about his fans in a way like no other artist has ever shown before.
We love you, our dear David, and on your birthday, here are our wishes and messages for you.
Write David a Message!
Leave David a Voice Message!
Don't Run Away
Because we'd love to hear from you guys!!!
Contribute! If you wanna submit news bits, artworks, covers, poems, or anything David, send us an email at news@archuletaphilippines.com.

Contact us! If you wanna join the AP news team, or for other concerns, reach us through the following emails: kricket@archuletaphilippines.com or pet@archuletaphilippines.com
admin: kricket. pet. nette. + layout: vince. kricket. pet. janssen. + editors: faye. kat. joyce. + graphics: ferj. rowz. janssen. pet. chai. jin. vince. + news team: kricket. pet. faye. kat. che. nettekulet. feesh. uriel. ayra. eugene. selene. jenna. gem. rowz. + charts: nettekulet. jin. + the generous ones: mj. filmom. kat. kricket. aidylmarie. sian. tita bess. tita ditas. nes. charisse. naree. + the forever supportive: tita ditas. tita tes. naree. tita bess. ms ana. lorms. +