June 8th, 2012
Is "I'll Never Go" David's next single?
So Jon Daza and Kari were teasing us about the next single though their tweets.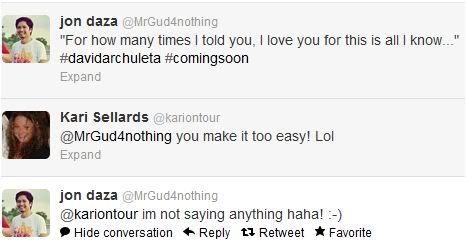 I see a slight hint of truth their though haha
But let's just wait for the official announcement/confirmation
*stoked*
Don't Run Away
Because we'd love to hear from you guys!!!
Contribute! If you wanna submit news bits, artworks, covers, poems, or anything David, send us an email at news@archuletaphilippines.com.

Contact us! If you wanna join the AP news team, or for other concerns, reach us through the following emails: kricket@archuletaphilippines.com or pet@archuletaphilippines.com
admin: kricket. pet. nette. + layout: vince. kricket. pet. janssen. + editors: faye. kat. joyce. + graphics: ferj. rowz. janssen. pet. chai. jin. vince. + news team: kricket. pet. faye. kat. che. nettekulet. feesh. uriel. ayra. eugene. selene. jenna. gem. rowz. + charts: nettekulet. jin. + the generous ones: mj. filmom. kat. kricket. aidylmarie. sian. tita bess. tita ditas. nes. charisse. naree. + the forever supportive: tita ditas. tita tes. naree. tita bess. ms ana. lorms. +