2009
What a year it was!
Ok lets's start
The days of this year were remarkable! It was a year of memorable Archumoments — a roller coaster ride of events, up's and down's, tears, happiness, laughter, and triumph and spazzzmmm
! With a non-stop year full of once-in-a-lifetime moments, screaming fans, endless chase here and there, and a Christmas album to cherished on, it is such a proper act to look back and take a snap shot of the most important events of the year in the Archuworld (as we all say!) *sigh* *sniff*
David Archuleta was featured on Square Magazine on January 8, 2009 shot by Matt-Clayton at the Archuleta house garage!. He's still just David in these pics. But the fans cant control the fangirl/fanboy hysteria within them (us!). Click HERE or HERE if you want to see once more the cute and handsome shots.
David at the Latino Inauguration Gala on January 20, 2009! This was a black-tie event! He sang the American National Anthem, Star Spangled Banner.
OnJanuary 21, 2009 the video of 'A Little Too Not Over You' made its' debut at MYX! That day, ALTNOY made it to the #9 spot on the MYX Daily Top Ten! WOW! Just Amazing!
January 24, 2009, a Saturday, was another exciting day for BB. This day he attended the Senior Ball at his high school! "I didn't think I'd ever get another chance to go to a school dance, but I asked management and they gave the ok and made time in the schedule for me to go. I had soooo much fun! For our day activity, we had breakfast and then played games. We fit in a lot of them too. We played dodge ball, basketball, musical chairs, apples to apples, and crab soccer. I got a good work out from the crab soccer too haha. We rocked out at the dance too, and even though I sweat so bad it was worth it.
The girl I got to go with was awesome too", as he said.
This day, January 28, Larissa Cheong, from Singapore, won the MyFOX Utah auction to have a dinner with David Archuleta with a final bid of $4,300. 00!, which will greatly benefit the Boys & Girls Clubs of South Valley. Larissa's bid entitled her to two tickets to the dinner. What a lucky woman is she! ;D
The boy with a golden voice, with a golden heart, turned GOLD on January 29! His self-titled debut album gained a gold status in just 2 months that went on to sell over 750,000 domestic copies (U.S. alone) and over 900,000 worldwide!
This year, David went on to be featured on several countless magazine in our country and as well as overseas. He landed on the pages of the MYX mag (Feb/March Issue), Total Girl (August/December Issues), and in Candy Mag, the one above (Feb/March and Sept Issues)!
David embarked in a month long SOLO Tour, which started on February 24 at Virginia Beach. He sang his signature songs in front of hysterical fans in all 20 U.S cities, tickets were reported to be SOLD-out in just a couple of minutes!
On March 28, David appeared on the Nickelodeon Kid's Choice Awards dressed in a dark olive button up (with that vest!!!)
He went on stage to accept an Award for American Idol, alongside Paula Abdul.
The month of April was a blast! On April 7, David performed at the Iluma Shopping Mall in Singapore, as part of his Asian Tour. And while in Singapore, David launched his clothing line he called 'Justice' on April 9!
Malaysian fans were delighted on April 12, 2009. It was their turn to witness David sing on stage for the first time at the Sunway Lagoon Amphitheater, KL.
David went on a UK tour with the Brit band McFly, right after he appeared in American Idol top 6 show singing 'Touch My Hand'. He had to cancel the first couple of UK tour dates to accommodate Idol and joined the tour just in time at Edinburgh, Scotland on April 24.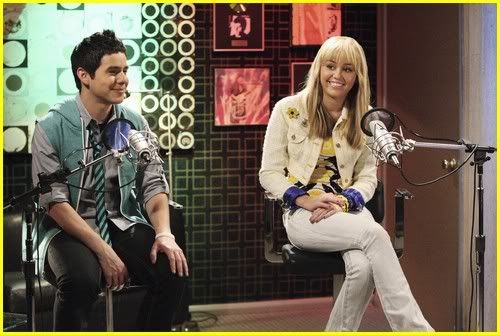 David met Miley Cyrus again on the Disney series Hannah Montana, where he guested on May 3, 2009 (the telecast date). The episode was entitled "Promma Mia," where David had the chance to prove his acting prowess and hone his singing skill with the duet "I wanna know You!".
To be continued…
5 Responses to "Part 1 – A year in review: Bring Back Faded Memories of 2009!"